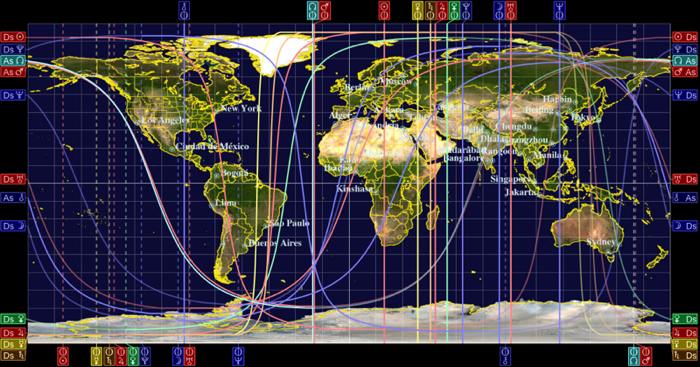 TimePassages Astro Maps Add-on is a fully integrated add-on to TimePassages Astrology Software*. With the Astro Maps Add-on, you can display Astro Maps with point-and-click interpretations. Just open a chart and choose Astro Maps from the Display menu.
* The Astro Maps Add-on requires TimePassages Standard or Advanced Edition.
Astro Maps Add-on Features
Astro Maps Creation
Generate and display an interactive map of the world with multiple zoom levels showing astro lines based on your natal chart.
Astro Map Interpretations
Interpretations for each aspect line on the Astro Map. Just point and click!
Loads with a code, no extra files are required (the files are there already in the Standard or Advanced Edition of TimePassages, in encrypted form, awaiting the code to turn them on).
See also: Relationship Insights Package, Compatibility Add-on, Relationship Add-on