Ceres in Astrology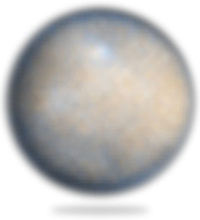 Keyword: Nurturing
Ceres was the first asteroid ever discovered, on New Year's Day in 1801! She is the most massive body in the asteroid belt, and is now defined as a dwarf planet along with Pluto and Eris. Because Ceres is believed to contain a liquid ocean, she is a main target for research of extraterrestrial life.
As goddess of the harvest and the natural process of fertility and renewal, Ceres represents the process of nurturing and motherhood in an individual's chart, and has been attributed to the sign Cancer as a co-ruler with the Moon.
In a chart, an afflicted Ceres by planetary aspect may indicate problems with being able to nurture, or to be nurtured by others, perhaps manifesting in food complexes, or a feeling of rejection by parental figures. When strongly placed, it symbolizes the ability to take on parental responsibilities, especially in a female subject, and also may indicate someone who has a close relationship with the earth, as gardener or grower of food. Also the position of Ceres by house and sign, and its planetary connections, is likely to indicate the way in which motherhood (or parenthood) manifests in one's life.