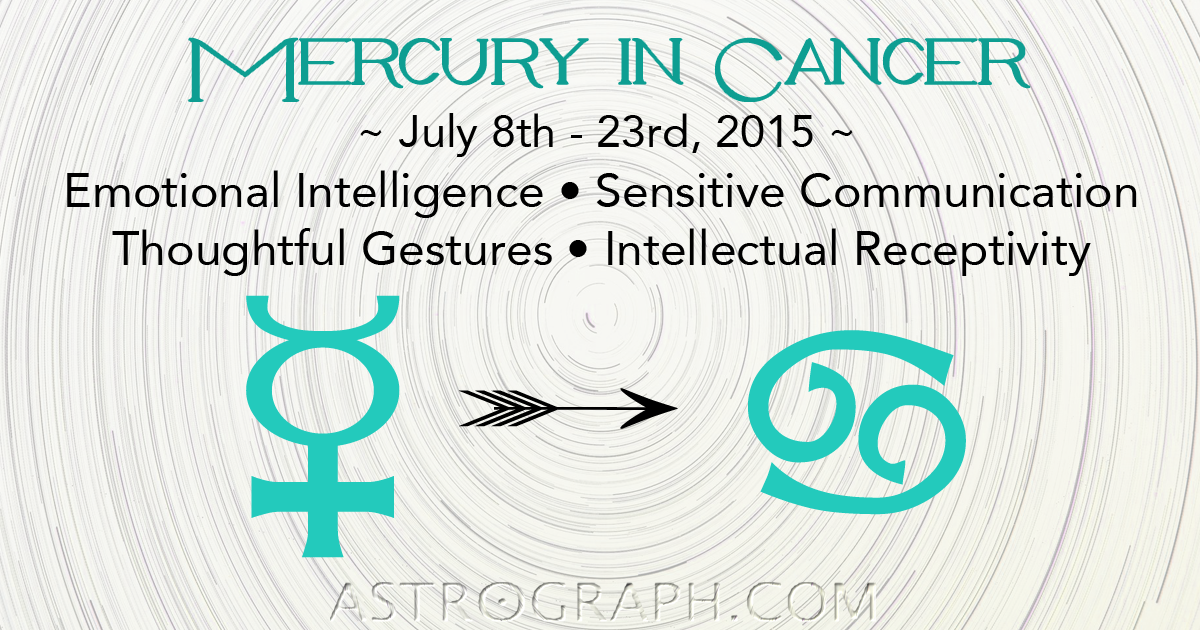 Mercury in Cancer
Posted on July 9, 2015 in Announcements |
By Henry Seltzer for ASTROGRAPH Horoscopes
After an extended stay in Gemini with the recent retrograde period, Mercury now enters the watery realms of Cancer, to stay for about two weeks, until July 23rd. Joining the Sun and Mars in this emotionally oriented sign, everyone's thoughts are more attuned to feeling states. Your mental processes are more greatly influenced by your emotions so that it may become challenging to exercise pure logic. Your thoughts turn to the past and to domestic matters, or in double-checking issues of safety and security. Others around you, as well as yourself, are likely to communicate with greater sensitivity than usual, and also perhaps more intuitively. In addition, you could discover that your memory improves, because the powers of your intellect become more receptive and subtle for this relatively brief time period.
★ ★ ★ Would you like to know more about your birth chart? Astrograph's in depth and highly detailed natal report can give you deeper insight into yourself and how your personal astrology is reflected in your life!
Your Essential Qualities
What do the celestial skies say about you?
Deepen your self-awareness and introspection with your own personalized Natal Report. This report was written by astrologer Henry Seltzer.
Includes a colorful birthchart with complete interpretations of zodiac signs, planetary positions and aspects. Chart patterns are also noted and delineated, a unique feature of this report!
Learn More
Dates given for astrological events are based on U.S. Pacific Time. Add or subtract hours as appropriate for your actual time zone; for example, East Coast, add 3 hours; Western Europe add 8 or 9.