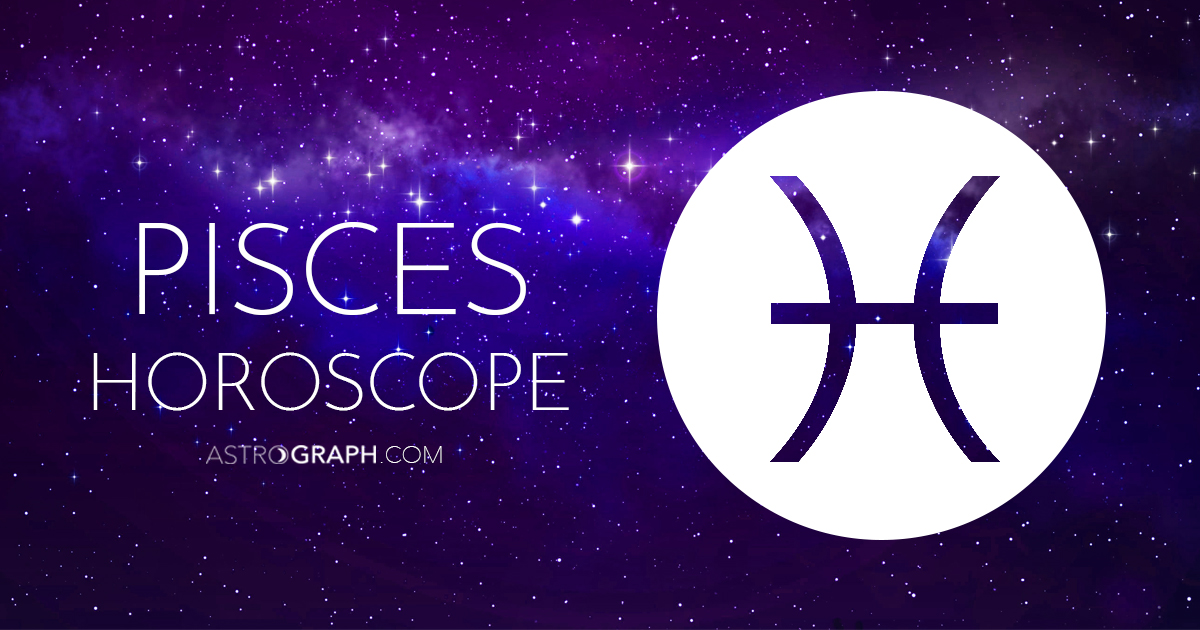 Pisces Horoscope for February 2021
Posted on January 30, 2021 in Pisces |
By Henry Seltzer for ASTROGRAPH Horoscopes
This is another transformationally oriented month for you, Pisces, with also a tilt to the inside. Your unconscious process is always with you, out of sight, and yet it sometimes becomes more visible to your conscious gaze, this month being one such time. Significant Aquarius placements of several planets contribute, corresponding to your twelfth solar sector of dream imagination and inner work. This includes the introspective retrograde of Mercury, lasting all this month. You may have recently found intuitively that what you do in the outer world has a closer connection to inner realities than you often concretely acknowledge. You are trying hard at this time to see what lies ahead; with your life goals evolving in new directions, your questioning leads you to the vast and darkly hidden realms of all that you hold inside. All this is intensified in the timing of the Aquarius New Moon of February 11th, when you see more clearly the dimensions of this struggle for ultimate meaning, coming to a form of resolution at month's end.





The following was written by our resident monthly columnist Elodie St-Onge-Aubut of Ninth House Astrology





With a huge stellium of planets in your twelfth solar sector, the month of February likely represents a period of deep introspection for you. The Sun moves through Aquarius for over two more weeks before entering your sign mid-month. Venus enters Aquarius on the 1st and joins Mercury, Jupiter, Saturn and the Sun already transiting there. The Sun in Aquarius also squares Mars in Taurus on the 1st, which may bring a conflict between what you feel and how you express it. You may be experiencing a breakdown in communication, or finding that you meet a lot of resistance from others when presenting your ideas. You are meditating on internal matters, but your feelings of identity are strong and you may have an almost compulsive need to express yourself.

Venus conjunct Saturn on the 5th to the 7th may find you reflecting on the limitations of an existing relationship. You could be feeling the burdens that come from sacrificing too much of your integrity. There may be a blockage in a partnership that keeps you from getting what you want. Venus and Saturn sextile Chiron in Aries could also bring up issues around self-worth and an opening for true healing to take place; especially if you acknowledge the areas of your life where you may be giving too much of yourself and dismissing your needs. Existing partnership could undergo a shake up as you contemplate what is not working anymore, what feels broken, or unsatisfying.

Mercury is retrograde in Aquarius for the first three weeks of February and meets the Sun on the 8th which marks the halfway point of its retrograde cycle. Mercury's inferior conjunction with the Sun could make you aware of a self-defeating pattern. You may not be able to see completely the reasons why you seem to be repeating the same mistakes but you could be getting some clues. There could be a way you express anger that doesn't come out the way you want and this could become more obvious around the 10th when Mercury Retrograde squares Mars in Taurus. Be mindful of the ways in which you assert yourself during the second week of the month as your inner feelings and the way they come out may not be aligned. There is a delicate balance needed right now between your need to express what is bothering you and finding ways to do it without being confrontational. You may feel frustrated by your inability to say exactly what is on your mind and patience will be required.

The time you spend self-reflecting this month will pay off to some extent when the New Moon in Aquarius arrives on the 11th – still in the introspective part of your chart – and could bring an increasing desire to get to the bottom of some of your more stubborn hang-ups. You may actually feel the need to spend more time alone so as to make sure to give yourself enough space to get weird on your own. The six planets currently transiting in Aquarius might incline you to acknowledge how much you actually like your personal space. This new emerging comfort you find within yourself may therefore be appeasing.

The first square between Saturn in Aquarius and Uranus in Taurus culminates on the 17th of February. This square occurs again from mid-May to July 4th, and from December 2021 to January 9, 2022, coloring this whole year with the contrast between your inner realities and the ways in which you connect with your environment. There may be a stark contrast between the way you feel and the way you communicate with others and this year could perhaps test you in bridging these two better.

The Sun enters Pisces on the 18th of February, signaling the last thirty days of winter in the Northern Hemisphere and also your time to shine. The Sun in your sign could represent a time when your ability to express yourself and connect with others gets easier after a period of feeling more disconnected. Once Venus enters Pisces as well, on the 25th, you should start to feel this connective and creative influence flow in your life more directly. The whole month of February could represent a time of inspiration that culminates with more outward and flowing expressions towards the end of the month.

The Full Moon on the 27th takes place in your opposite sign of Virgo, highlighting your partnerships and emphasizing the compromises you are willing to make to enable better communication between you, or illustrate issues such as where you may be feeling unseen. There could actually be an unusual amount of back and forth needed to come to a compromise at this time. You may need to make an effort and create space for other people's perspectives while also respecting your own needs more honestly.
Our relationship reports are on sale until the end of February.
Relationship Insights Reports
Whether it's a new flirtation or a lifelong partnership, your stars light the way to a deeper understanding of yourself, your lover, and your relationship.
We have astrology reports for every kind of relationship. So you can find your astrological compatibility with friends, lovers, or business partners.
These insightful reports are about 25 pages in length and give great details on the challenges your relationship might face with helpful clues on how to overcome these obstacles!
What type of Relationship Insight Report do you want?
It depends on what kind of relationship you have.



$24.95

Romantic Compatibility Report

For everything from a passing crush to a serious relationship. Find out how your individual charts interact to create your unique chemistry.
Uses chart comparison technique.

Learn More




$29.95

Long-term Relationship Report

For long-term relationships and soul mates. Learn how your two charts merge into one to form a chart of the relationship itself.
Uses chart composite technique.

Learn More